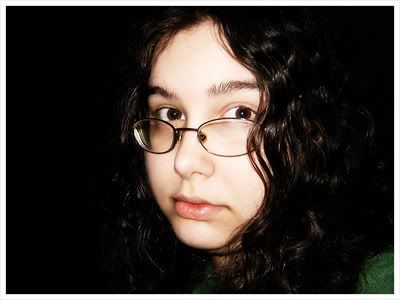 i've written this stupid thing a million times over, and i keep going back too far in time to really give you a good 'about me' type thing. its hard for me to write myself down in simple terms.
i have been blogging since i graduated high school in 2001. i started blogging because i found myself very intrigued by the personal blogs of people who just posted about their life. i guess you could say i am a life voyeur.
nimil is not my real name but its the one i go by all over the internet. it is actually my real name translated into another language, and i like it much more than the name i was given at birth.
i live in the mountains of virginia, with my chainsaw collecting fiance. we are currently awaiting the arrival of our first (and only) child. our love story is kind of crazy, but we fit, and we're perfect, and that's what matters.
i'm pretty opinionated, but i try not to push those opinions on other people. i just know how to defend myself if they push their opinions on me.
i am a videogame nerd. i love videogames. i grew up playing them. they do not rule my life but i do enjoy spending a good chunk of time on them, and i am pretty sure my kid will as well. i think videogames are a better way to waste free time than getting drunk or stoned.
i am a laveyan satanist. i was raised to pick what ever religion i wanted. i chose the one less traveled. don't let the name spook you. its not as horrible as it sounds. i encourage you to take a look at the definition of it before passing judgement.
i don't use capital letters often. this has nothing to do with ignorance, its just a personal preference.
i've been though many hardships, including the deaths of both my mother and father, and being so poor i couldn't afford toilet paper. i am just now coming out of a depression cloud that hung over me for so long that i never thought i would smile again.
now my smile does not seem to stop.