went to the doctor yesterday and unfortunately i got confused as to when i was having that anatomy scan, so we did not find out the sex of the baby yet
but we will be finding out in two weeks as we've got an appointment scheduled
the midwife said that i'll probably get some of those awesome 4D ultrasound images and stuff like that so i'm double excited to get to see more clear images of the baby.
the doctor visit yesterday was kinda dull to be honest. we had to answer questions about genetic history and then we listened to the baby's heartbeat, which kinda sounds like the littleone is rocking out to dubstep in there.
the rest of our day was spent at barnes & noble looking at books, then to best buy where i found this EPIC motorcycle: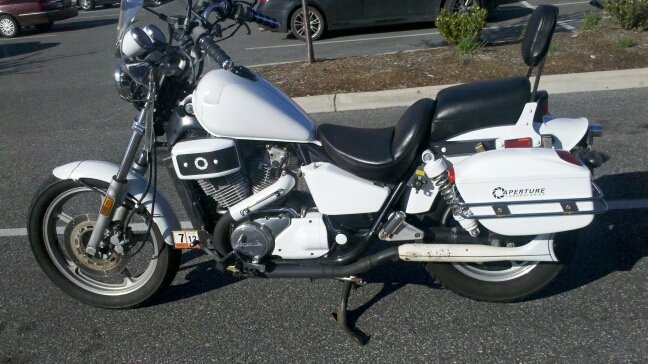 ben did not understand why this bike is so cool.. but if you are a gamer, and have played portal, you know why :p
we then had a lovely dinner at applebee's, came home and zonked out early. ben had to leave for work again this morning BUT because of my doctor visit schedule for april, i'm going to get to spend a lot of time with him. since he is usually gone a week at a time, he's going to have to take some time off of work in april to accommodate the doctor visits i have that month. the 14th we're getting our scan that we've been waiting for. and then the 24th we have another appointment with the midwife to make sure everything is going the way its supposed to.
now the waiting X_x